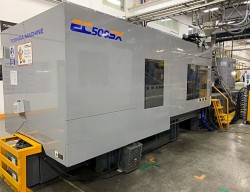 500 ton Toshiba All-Electric - Installed new in 2016 - Model EC500SXV50-26AT - 43.5 oz. shot

| | | |
| --- | --- | --- |
| Clamp Tonnage | :::: | 500 tons US |
| Tie Bar Distance | :::: | 34.3" x 31.9" |
| Platen Size | :::: | 48.4" x 45.7" |
| Mold Thickness | :::: | 25.6"min / 43.3"max |
| Clamp Stroke | :::: | 31.5" |
| Max Daylight | :::: | 74.8" |
| Shot Size | :::: | 43.5 oz. |
| Injection Pressure | :::: | 27,600 PSI max |
| Electrics | :::: | 230V/3/60 |
Equipped With:
Injectvisor V50 Enhanced Touch Screen Controller
External Monitoring Interface
Alarm Light Red
RJG Ready
Dual zone valve gate high flow
Reject Shot Receptacle
Hopper Slide with linear guides
No Hopper Included
300 mm Daylight Extension
Dual High Flow Airblow
Dual Hydraulic Corepull
Power unit 20 GPM@2600psi
High Performance Polyolefin screw/ Tungsten Carbide Barrel
Transformer 460V
SPI Robot Interface
Hydraulic Ejection manifolds on stationary and moving platens
2 Piece Linear Bearing Kit for Stack Molds
Only Approx. 3,300 Hours Of Use
Machine is running at a Medical Clean Room Facility!!
[Watch Video Of This Machine]
This Toshiba injection molder can be seen under power. Get a quote today!