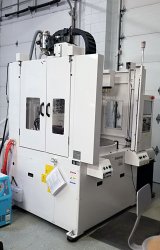 44 ton Sodick Vertical Rotary - Installed new in 2014 - Model TR40VRE - 2.79 oz. shot

| | | |
| --- | --- | --- |
| Clamp Tonnage | :::: | 44 tons US |
| Platen Size | :::: | 11.8" x 11.8" |
| Mold Thickness | :::: | 7.9" min. |
| Max Pressure | :::: | 36,550 psi |
| Voltage | :::: | 200/220 volt |
| Open Daylight | :::: | 15.7" max. |
| Shot Size | :::: | 2.79 oz. (28 mm) |
| Dimensions | :::: | 95.2"Lx55.1"Wx103.1"H |
| Approx Weight | :::: | 7606 lbs. |
Equipped With:
Sodick LCD Touch Panel Controller
2 Station 40" Rotary Table with 180 degree oscillating
Ejector System AC Servo Control
Matsui Dryer Model MJ3-15-U w/ Loader System Included
Matusi Plas-Aid Mold Tempreature Controller Included
Under Power
Only 114 hours of use!
[Watch Video Of This Machine]
It is rare to find a used machine on the market that has seen as little usage as this Sodick. This vertical molder is in excellent shape. It ran the following materials: PBT, ABS, and PA 6/6.