Request A Quote →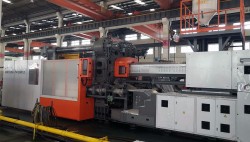 1815 ton Chen Hsong - Brand New - Model SM-1650 TP - 465 oz. shot
ref # SM1650CH

| | | |
| --- | --- | --- |
| Clamp Tonnage | :::: | 1815 tons US |
| Tie Bar Distance | :::: | 61.81" x 57.87" |
| Platen Size | :::: | 85.03" x 83.46" |
| Mold Height | :::: | 23.62"min / 55.11" max |
| Max Daylight | :::: | 122.04" |
| Shot Size | :::: | 465 oz. |
| Clamp Stroke | :::: | 66.92"-98.42" |
| Voltage | :::: | 460/3/60 |
| Dimensions | :::: | 484"Lx 149"W x130"H |
| Approx Weight | :::: | 165,500 lbs. |
Equipped With:
Beckhoff German Engineered Controller w/15" Touchscreen
Two Platen Machine with Advanced Servo Driven Hydraulics
3 Corepull
3 Airblasts
8 Valve Gates
Energy Saving Inovance Servo Pumps
High Resolution Potentiometers
PID Barrel and Nozzle Temperature Control
High Torque Screw Drive
Adjustable Slider Supports for Moving Platen
High Tensile Chrome Plated Tie Bars
Electrical, Mechanical, and Hydraulic Safeties
Multiple Ejector System
Airblow
Electric Screw Drive
Water Flow Meters
Standard Spare Parts Kit
Includes: Prepaid Freight, Start-up Supervision and Training (Customer only provides rigging off the truck and assembly)
Includes: 3 Year Warranty on Major Castings
Includes: 2 Year Parts and Labor Warranty on ALL non-wear components
Additional Options - Please Ask!
This SM-TP series machine offers several significant advantages at a lower cost such as incredible speeds (up to 700mm/s speed in clamp open/close; Reduced energy consumption by up to 80% with high precision and excellent low noise operation; Fast setup and much more. Be sure to ask us for any additional information you may need when requesting a quote.
Please note: We can only quote new Chen Hsong machines to the United States and Canada.
Mention Ref # SM1650CH