Request A Quote →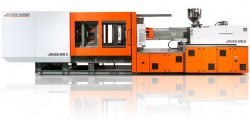 515 ton Chen Hsong - Brand New - Model JM 468 Mark 6 Series - 84.7 oz. shot
ref # JM468CH

| | | |
| --- | --- | --- |
| Clamp Tonnage | :::: | 515.8 tons US |
| Tie Bar Distance | :::: | 32.67" x 32.67" |
| Platen Size | :::: | 46.85" x 46.85" |
| Mold Thickness | :::: | 11.81"min/33.46"max |
| Ejector Stroke | :::: | 8.66" |
| Open Stroke | :::: | 32.28" |
| Max Daylight | :::: | 65.74" |
| Shot Size | :::: | 84.7 oz.* |
| Ejector Force | :::: | 18.29 tons |
| Ejector Stroke | :::: | 8.66" |
| Voltage | :::: | 460/3/60 |
| Dimensions | :::: | 344"L x 80"W x 89"H |
| Approx Weight | :::: | 43,651 lbs. |
Equipped With:
B&R Controller with 10" display
2 Corepull
2 Airblow
High Torque Screw Drive
Energy Saving Inovance Servo Pumps
Eject in Parallel with Clamp motion
Multiple Ejector Control
Precise Barrel and Nozzle Temperature Control
Electrical, Mechanical and Hydraulic Safeties
Water Flow Meters
Spare Parts Kit— Heaters Bands, Leveling Pads, Filters and Mold Clamps
4 weeks delivery time (Currently in stock)
* Additional machines available with a 58.9 oz or 72.1 oz. shot (Delivery time may be longer)
Includes: 2-Year Limited Factory Warranty—Parts & Labor!
Includes: 3-Year Limited Warranty on Frames & Castings
Includes: Freight prepaid to the customer's dock, start up and training!
Additional options are available - please ask us!
The Mark 6 series features highly efficient servo motors that reduce energy consumption by up to 80% with high precision and remarkably low noise operation. Find out more about these reliable, affordable and high performing machines from Chen Hsong by requesting a quote today!
Please note: We can only quote new Chen Hsong machinery to the United States and Canada.
Mention Ref # JM468CH